Silikonferro FeSi2 naturlig storlek för industry72 # Al1.5
| | |
| --- | --- |
| Betalning Typ: | L/C,T/T |
| Incoterm: | FOB,CFR,CIF |
| Min. Beställ: | 100 Short Ton |
| Leverans Time: | 90 dagar |
Grundläggande information
Modell nr: 201772#Al1.5
Produkttyp: Klump
Material: FeSi
Kolinnehåll: Lågt kol
Size: 10-100mm, 10-50mm, 50-100mm, Etc.
Appearance: Grey Lumpish Solid
Package: Plastic Woven Bags About 1 MT Net Each
Additional Info
Förpackning: väska
Produktivitet: >1000sets
Transportfordon: Ocean,Land
Hemorten: Kina
Supply Förmåga: >10000sets
Certifikat: standard
Hamn: Port of Shenzhen,Port of Shanghai,Port of Tianjin
Produktbeskrivning
Ferrosilicium är en järnlegering bestående av järn och kisel. Ferrosilicium är tillverkat av koks, stålskrot, kvarts (eller kiseldioxid) som råmaterial, tillverkat av el-smältjärn av järnkisellegering. Eftersom kisel och syre är lätta att syntetisera kiseldioxid används ferrosilicium ofta som en deoxidizer under stålframställning.

Utseende: Grå klumpigt fast
Användning: Den används som deoxideringsmedel vid ståltillverkning, gjutning av icke-järnmetaller och annan industriproduktion.
Storlek: 10-100mm, 10-50mm, 50-100mm, etc.
Förpackning: I plastvävda väskor ca 1 MT netto var och kan också packas enligt kundens krav.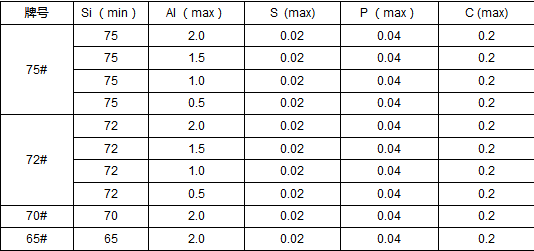 På andra sätt. Fint eller finfördelat ferrosiliciumpulver kan användas som en suspensionsfas i mineralförädlingsindustrin. I elektrodtillverkningsindustrin kan användas som elektrodbeläggning. Hög-kisel ferrosilikon kan användas i kemisk industri för att göra silikon och andra produkter.
Bland dessa användningsområden är stålindustrin, gjuteri och ferrolegeringsindustrin de största användarna av ferrosilikon. De förbrukar ca 90% mer ferrosilikon. I en mängd olika kvaliteter av ferrosilicium är det mest använda 75% ferrosilikon. I stålindustrin konsumeras 3-5 kg ​​75% ferrosilikon för varje 1 ton producerat stål. Ferrosiliciumkvaliteter och kemisk sammansättning

Produktkategorier : Mineral Products Trading > Stålprodukter