Silikon Metal för att producera organisk-Si441 # Si99.10
| | |
| --- | --- |
| Betalning Typ: | L/C,T/T |
| Incoterm: | FOB,CFR,CIF |
| Min. Beställ: | 100 Short Ton |
| Leverans Time: | 90 dagar |
Grundläggande information
Modell nr: 441#Si99.10
Typ: Järnmalm
Koncentrera: Koncentrera
Package: Plastic Woven Bags About 1 MT Net Each
Size: 10-50mm、10-100mm Etc.
Additional Info
Förpackning: väska
Produktivitet: >10000ton
Transportfordon: Ocean
Hemorten: Kina
Supply Förmåga: >100000ton
Certifikat: standard
Hamn: Port of Shanghai,Port of Shenzhen,Port of Tianjin
Produktbeskrivning
Dagens datorer, på grund av tekniska framsteg och materialförbättringar, kan hålla tiotusentals transistorer på ett fingernätstorlekskisel, med en mängd inmatnings-, utdata-, beräknings-, lagrings- och kontrollinformation. Mikroporöst kalciumsilikat värmeisoleringsmaterial Mikroporöst kalciumsilikatisoleringsmaterial är ett slags utmärkt värmeisoleringsmaterial. Det har fördelarna med liten värmekapacitet, hög mekanisk hållfasthet, låg värmeledningsförmåga, icke-brinnande, giftfri, luktfri, skärande, lätt att transportera och så vidare.
Det kan användas allmänt inom metallurgi, el, kemikalier, fartyg och annan termisk utrustning och rörledningar. Efter testning är energibesparing bättre än asbest, cement, vermikulit och cementperlit och andra isoleringsmaterial. Speciellt kalciumsilikatmaterial kan användas som katalysatorbärare, som används i stor utsträckning vid petroleumraffinering, avgasrening och många andra aspekter.
Användning: Används huvudsakligen för att producera organisk-Si i kemisk industri och kan även tillämpas på mekanisk, kemisk, legeringar, elektron, medicinindustrin, statens försvar etc.
Storlek: 10-50 mm.10-100 mm etc.
Förpackning: I plastvävda väskor med 500kg eller 1mt netto varje eller i bulk, och kan också packas enligt kundens krav.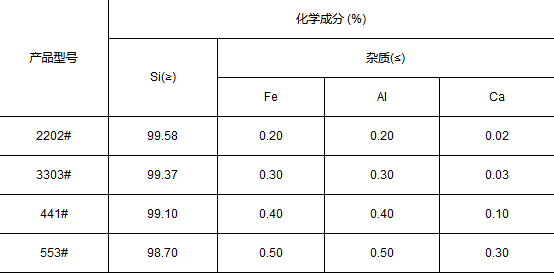 Metallkiselsmältning är en energikrävande produktion, Kinas metallkiselproduktion har varit länge, med den nationella energipolitiska åtstramningen och energibesparande utsläppsminskning, liksom främjandet av nya energikällor har kiselmetallmältningen blivit en primär produkt och
teknik har många inhemska växande energibolag byggt upp en rad cirkulära industrikedjor av kiselmetall, polysilikon, monokristallin kisel och solceller och kommer oundvikligen att påverka utvecklingen av Kinas hela energisektor och tillämpningen av nya energikällor i kommande år.
Produktkategorier : Mineral Products Trading > Stålprodukter